Performance Vehicles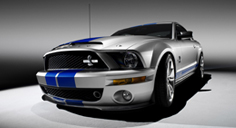 EXPLORE FORD PASSION
Tour the "World of Ford Performance" and check out our exciting new vehicles plus the hottest parts and the latest happenings with enthusiast owners, clubs and racers.
Performance Vehicles
Meet the vehicles we design for a high-powered, passionate driving experience.
Sport Compact Vehicles
Find out what "fun-to-drive" really means.
With the introduction of the Mustang FR500S and the Mustang Challenge for the Miller Cup, Ford Racing now has a car and a race for each rank of professional racing.
Experience Mazda at the highest, most exhilarating level.