Safety Education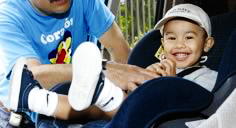 We work with the Latino community to get the word out about child passenger safety.
Simple steps for keeping your tires safely inflated.
What to do if you need an SUV Owner Guide.
We're helping new drivers become safer drivers.
Help keep children traveling in your vehicle safe by properly installing safety restraints.
We're making a safe car even safer.
Our child passenger safety seat initiative is aimed at reducing child injury, disability or death due to traffic accidents.
We're helping to educate, empower and enable young women to improve their behind-the-wheel performance and their safety.