In 2001, an entrepreneurial group of small-budget orchestra leaders were searching for a way to commission a nationally renowned composer. They decided to pool their resources and with our help, Ford Made in America was founded.
Ford Made in America is a unique consortium of orchestras, which has grown to include 65 orchestras.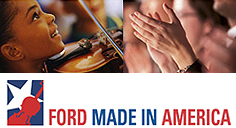 New Opportunities for Orchestras Nationwide
As the largest known orchestra consortium, Ford Made in America has created a national network. Through this network, orchestras in smaller communities are given the rare opportunity to premiere a new work by an established American composer. This program exemplifies the vitality of America's orchestras and composers, a spirit of partnership and a commitment to creativity.
In addition to the commission and performance of a new work, the Ford Made in America project also includes the development of a website, creation of extensive education materials and delivery of innovative educational and community programming.
Made in America Orchestra Premieres
Joan Tower was the first composer selected for the Made in America program. Her new work, "Made in America," uses the theme of "America the Beautiful" as the departure point for a unique musical journey that is both original and familiar.
Tower's work premiered in October 2005 in Glens Falls, N.Y., and was performed more than 50 times by consortium orchestras in all 50 states through March 2007.
Joseph Schwantner is the second composer selected for the program. He will create a new work for Ford Made in America, which will receive its world premiere with the Reno Chamber Orchestra in fall 2008.
Radio Documentary
The story of Ford Made in America will be told through an hour-long radio documentary, premiering in fall 2007 and reaching more than 10 million listeners on public and commercial radio stations across the country.
The documentary will be hosted by Bill McLaughlin, a well-known public radio personality, and will focus on the 2005 world premiere of Joan Tower's "Made in America" and its spring 2006 performance by the St. Louis Youth Symphony.
The documentary will feature interviews with Jim Vella, president of Ford Motor Company Fund and Community Services; project collaborators from the American Symphony Orchestra League and Meet the Composer; and members of the participating symphonies and youth orchestras.
Ford Made in America is made possible by Ford Motor Company Fund.
More Information
Visit the Ford Made in America website
for more information.