To celebrate the opening of the new Museum of Modern Art (MoMA) in New York, we launched Ford Family Programs at MoMA, a series of free programs at the museum for children and families.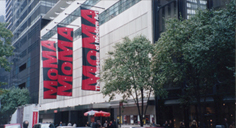 Introducing Families to Modern Art
Ford Family Programs at MoMA introduces participants to the rich and varied world of modern and contemporary art. These programs give inquisitive minds of all ages a new way to think and talk together about the stimulating world of modern art.
Programs in the series encompass a variety of activities, including guided tours, art workshops, artist talks, film screenings, family activity guides and a family website. Program admission is free for participants (up to two adults and three children per family) and also includes museum admission.
Program Activities
Ford Family Programs at MoMA include the following activities:
Free monthly Ford Family Activity Guides
Film screenings for children ages 4 to 14 and their families
Art Mix, a gallery-talk series for tweens
Conversations with Contemporary Artists: The Family Edition, which gives families with 7- to 14-year-olds the opportunity to ask artists questions about their work
Family Art Workshops on topics as wide-ranging as art and music, assemblage, portraits, clay constructions and printmaking
A Closer Look for Kids, a weekly series for children ages 5 to 10 that looks closely at modern masterpieces from the museum's collection as well as temporary exhibitions
Tours for Fours, geared specifically to 4-year-olds, which include interactive gallery activities and discussions in which every child gets a chance to participate
Destination: Modern Art, a website for children ages 5 to 8