Parts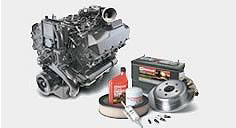 Find Parts for Your Vehicle
Get the reliability of factory-trained maintenance and repairs for your Ford, Lincoln or Mercury vehicle.
Powertrains for the industrial, marine and on-highway markets.

Make sure the parts you use are designed specifically for your vehicle.
locate a dealer
Enter the information below to find a dealer in your area (U.S. only).
To browse dealers by location, use our Dealer Directory.
Express your style by accessorizing your vehicle to match your lifestyle.
From motor oil to transmission assemblies and everything in between, Motorcraft® parts provide exceptional quality and fit.
Conveniently available at Ford, Lincoln and Mercury dealerships, Genuine Parts & Service offers reliable service and repairs.