We recognize that diversity is not only a reality of our global workforce but a distinct advantage, one that we value and embrace.
In some cases, Ford Motor Company employees who share common interests or backgrounds choose to join corporate-sponsored Employee Resource Groups (ERGs). ERGs provide support networks and fellowship, identify barriers, contribute to employees' professional development and organize activities for employees of diverse backgrounds.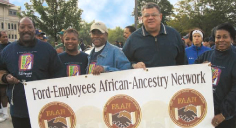 Ford African-Ancestry Network (FAAN)
FAAN champions workplace diversity at Ford by making a positive impact on the African-American community. FAAN promotes leadership development through seminars, mentoring, counseling and Dialogues on Diversity with senior management. Members support summer internship programs and recruiting at minority-focused career events. In the Detroit area, members provide SAT coaching, an area pre-college engineering program, Paint the Town events and Black History Month celebrations. They also support the United Negro College Fund.
Ford Asian Indian Association (FAIA)
FAIA's three-part vision is to promote the Ford family of brands as the "Brand of Choice" for Asian Indian consumers, make Ford the "Employer of Choice" for Asian Indian professionals and develop the business and technical skills of Asian Indian employees to ensure a competitive advantage for Ford. FAIA also works to enhance cultural awareness and understanding of Asian Indian culture among all employees.
Ford Chinese Association (FCA)
One of the oldest employee resource groups at Ford, FCA represents a highly motivated group of dedicated professionals who are eager to bring diversity to the workplace. FCA members actively engage in events and activities that assist in Ford's growing operations in China and Ford's marketing and design efforts in North America. FCA organizes activities throughout the year to promote cultural diversity, improve community relationships and enhance the worklife balance at Ford. FCA also makes efforts to help its members with their professional growth by organizing seminars, workshops and one-on-one sessions with senior management. FCA reaches out to outside communities by organizing fun activities and participating in community service events. For its achievements, FCA has been recognized by Ford with three Diversity Summit Awards.
Ford Employees Dealing with disAbilities (FEDA)
Founded in 2002, FEDA helps ensure the company's ongoing commitment to employees with disabilities and provides a first-stop resource for information and networking tools for employees dealing with disabilities of their own or of others. FEDA works in concert with efforts in the United States and Europe to help Ford vehicles become the mobility vehicles of choice for customers dealing with disabilities.
Ford Gay, Lesbian, Bisexual or Transgender Employees (GLOBE)
Ford GLOBE strongly supports the company's Equal Employment Opportunity policy. GLOBE has chapters in Great Britain, Germany and the United States, providing worldwide networking and confidential employee support. Members actively champion diversity education, recruiting and marketing. They hold monthly membership meetings, lunches and socials and support many community events.
Ford Hispanic Network Group (FHNG)
Through service and support, FHNG strives to be a positive force in the Hispanic community. The group's vision is to assist the corporate effort to employ, develop and retain Hispanics in the workforce. Programs include hosting professional development events and sponsoring speakers on diversity initiatives.
Ford Interfaith Network (FIN)
Founded in 2001, the Ford Interfaith Network (FIN) aims to assist the company in becoming a worldwide corporate leader in promoting religious tolerance and understanding, corporate integrity and human dignity. FIN has worked to enable employees of all religions to come together and express their faith in appropriate and meaningful ways in the workplace and to build bridges to the community.
Ford Parenting Network (FPN)
FPN's primary mission is to further Ford's effort to create a balanced worklife environment&EEMM;an environment where maximum contribution at work is balanced with the employee's fulfillment of personal and family responsibilities. Members work to promote family-friendly worklife policies and decisions at Ford. Members sponsor ongoing parenting classes and outstanding parenting seminars and offer networking opportunities for Ford parents.
Ford Veterans Network Group (VET_NG)
We employee about 11,000 veterans and 2,200 employees who are active in the Reserves and the Guard. Our newest employee resource group, the VET NG seeks to raise awareness within the company about our veterans, their issues and contributions to the company, as well as promote and create opportunities for sales within the active military and veteran communities and their families and friends. The VET NG has assisted the Ford Volunteer Corps in supporting community events and local fundraisers to benefit needy veterans, as well as opportunities to support overseas troops.
Middle Eastern Community @ Ford Motor Company (MEC@Ford)
Everyone is welcome to join MEC@Ford, a resource group dedicated to making Ford Motor Company the preferred automotive producer among Middle Eastern communities. Goals include building consumer relationships, demonstrating corporate citizenship, promoting diversity and developing cultural awareness. Activities include working with area schools and mentoring and supporting employees of Middle Eastern backgrounds.
Professional Women's Network (PWN)
PWN focuses on professional development for women, promoting an environment that attracts, develops and retains women employees and customers for the Ford team. PWN sponsors motivational speakers, mentoring programs, leadership initiatives and community projects. A number of affiliate groups are aligned under PWN, within areas such as Finance, Ford Credit, IT, Manufacturing, Marketing, Sales and Service, Product Development and Racing.