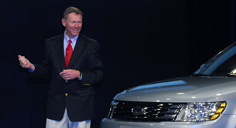 Ford is a global business. We have a lot of talented people working together, and our performance will be determined by the breadth and the depth of our inclusion of all of our people. The more we embrace our differences within Ford—diversity of thought, experience, perspective, race, gender, faith and more—the better we can deliver what the customers want and the more successful Ford will be.
My priority is to ensure that inclusion at Ford is at the highest level of performance so that we include all employees deeply, thoughtfully and broadly in the business. It's about respecting each other and listening to each other. It's about one global team working together.
I always find it very interesting when someone asks me, "What is the business case for diversity?" Successful companies are ones that satisfy their customer's wants, needs and desires. The data clearly show that if your customer base is global and diverse and you reflect their perspectives and their knowledge, you're going to have a better chance for success. The closer you get to their emotional and intellectual roots, the better you're going to communicate with them.
So what's the business case for diversity? It's the only business case we need—the only way to satisfy diverse customers is to include their perspectives inside the company. This is especially true for Ford, because we probably have the most diverse set of customers in the world.
— Alan Mulally, CEO and President, Ford Motor Company