Technology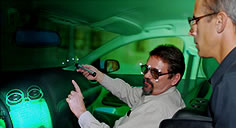 We're committed to improving the vehicle manufacturing process in ways that provide real benefits, including reducing injuries, improving quality and bringing vehicles to market more quickly.

We're helping you stay connected by supporting the features and functions you want to use in your vehicle.

To deliver the quality experience our customers expect, a new acoustic windshield helps reduce wind and road noise.
Find out how your commute is about to improve.
Experience the thrill of a vehicle built for performance.
Fordnewideas.com receives unsolicited ideas from the public and non-traditional suppliers for review and when appropriate, further evaluation.
Read about our newest, coolest technologies.
See how we're improving the manufacturing process.