Passive vehicle safety systems and features like airbags and seat belts, which help minimize post-crash injury, have led to enormous improvements in occupant protection over the last few decades. Sadly there are still too many fatalities and serious injuries caused by traffic accidents.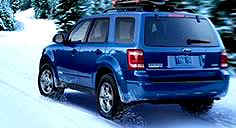 The next step in reducing these numbers and complying with the EU target of halving road fatalities by 2010 is to focus on active safety technologies.
Active vehicle safety systems are designed to help drivers avoid crashes before they happen. We've developed a number of active vehicle safety systems, including Adaptive Cruise Control with Forward Alert and Collision Mitigation by Braking (CMbB) introduced on Ford of Europe vehicles S-MAX and Galaxy.
Adaptive Cruise Control
Adaptive Cruise Control with Forward Alert uses radars to detect vehicles driving ahead. The intelligent Adaptive Cruise Control system independently accelerates and decelerates the vehicle.
If the driver approaches slowed vehicles ahead without slowing down, the Forward Alert system warns the driver with a chime and a blinking icon, giving the driver valuable and sometimes even pivotal reaction time. However, if the driver still does not react within the next few milliseconds, the pressure of the brakes is pre-charged automatically so that in the event of braking, the driver gets the full brake power immediately. In the case of such emergency braking, the hazard lights are also activated automatically to alert other drivers for safer driving.
Even if the collision is not completely avoided, this system can help significantly reduce the impact.
Collision Mitigation by Braking
A related type of technology is Collision Mitigation by Braking. Ford and Volvo researchers worked together to develop this collision avoidance technology and demonstrated it in Mercury Meta One Concept Car.
The automotive safety system uses sensors to gauge an impending frontal crash. In the event of an impending crash, the automotive safety system amplifies the driver's braking by automatically applying additional brake pressure to further reduce the vehicle's speed at impact.