Until World War II, the automotive industry was a mostly male bastion. But with so many men called to serve, more women than ever before sought employment. While their fathers, sons, husbands and friends fought in Europe and Asia, women served the war effort right at home, filling in quickly and capably.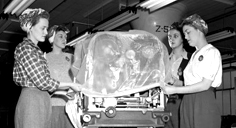 Women Were Integral to the War Effort
In 1943, two years after the United States entered World War II, more than 30 percent of Ford workers in the machining and assembly departments were women. Women built jeeps, B-24 aircraft, and tractors. They even flew planes, becoming test pilots for the B-24s that were built for the war effort. They operated drill presses, welding tools, heavy casting machinery and—like Rose Will Monroe—riveting guns.
A Real Rosie the Riveter
The term "Rosie the Riveter" was first used in 1942 in a song recorded by the popular big band leader Kay Kyser, which became a national hit. The song portrays "Rosie" as a tireless assembly line worker, doing her part to help the American war effort. Although the song was inspired by Rosalind P. Walter, Rosie the Riveter became most closely associated with another real woman, Rose Will Monroe, who moved to Michigan during World War II. Rose Will Monroe had been left a widow with two young children after her husband was killed in a car accident. Like millions of other women in America, she joined the workforce to fulfill a call to arms and to support her family.
She worked as a riveter at the Willow Run Aircraft Factory in Ypsilanti, Michigan, building B-29 and B-24 bombers for the U.S. Army Air Forces. Because Monroe happened to best fit the description of the worker depicted in the "Rosie the Riverter" song, she was asked to star in a promotional film about the war effort at home. Rosie went on to become perhaps the most widely recognized icon of that era. The films and posters she appeared in were used to encourage women to go to work in support of the war effort.
When the war ended, Rose Will Monroe and her female wartime colleagues were sent home so the returning soldiers could resume their prewar jobs. But the women had made their point, and had changed the American workplace forever. Monroe herself achieved her dream of piloting a plane when she was in her 50's.
A Lasting Contribution
After the war was over, gender was added to the nondiscrimination clause in the contract between the company and the UAW in 1946, another indication of the changing times and the impact that "Rosie the Riveter" had had on industrial production at Ford Motor Company and elsewhere. In the decades that followed, the laws caught up with the changes, and more women took their rightful places in the boardroom as well as on the factory floor.