Regional Review > North America >
Strategy and Governance
Partnering With Cities to Transform Mobility
Today, half the world's population lives in cities. By 2030, that number is expected to grow to 60 percent. As populations grow, so does the challenge of keeping cities moving, thriving and healthy.
This is why Ford has established a new City Solutions team – the only one of its kind in the industry. The team is beginning to collaborate with Bloomberg Philanthropies and its global coalition of mayors as part of a cross-sector dialogue in preparation for the era of autonomous vehicles, and also is working with major cities in North America, starting in San Francisco.
Read about our vision for the City of Tomorrow, and how we're partnering to meet San Francisco's future transportation needs
Beyond the Car: Human Progress and Mobility
The mobility challenges tied to moving people and goods around become tougher as cities expand and develop. This is the key for a transformational mobility project that was awarded a $200,000 grant from the Bill Ford Better World Challenge, a program launched by Ford Motor Company Fund.
GoodTurn is a type of ride-sharing application that will be used by Ford volunteers and others in the community to identify needs and connect underserved populations with the resources they need. The idea came from a group of Ford employees. After enlisting technical help from the University of Detroit Mercy, the group received the challenge grant to develop an app that connects nonprofit organizations' needs with volunteer drivers in real time.
The GoodTurn team is testing the app and working with four southeast Michigan nonprofits: Detroit Mercy Campus Kitchen, Cass Community Social Services, Detroit Rescue Mission Ministries and Macomb Habitat for Humanity. The app works like this:
A nonprofit will set "goals," which encompass the timing, desired "to" and "from" locations, and the types and quantities of item(s) that need to be moved

GoodTurn then will link the nonprofit to a registered volunteer driver who is able to assist. The driver determines what "goals" they are able to help the nonprofits achieve by deciding what their schedule allows and what their vehicle is able to handle

The volunteer communicates, via the app, to the nonprofit to manage the moving and delivery times; once the drop-off is fulfilled, the goal is complete
GoodTurn perfectly illustrates Ford's vision of how mobility solutions can go "beyond the car" – by harnessing technologies and new thinking to address social challenges and ultimately make people's lives better.
Innovate Mobility Challenge Series
Big challenges call for big ideas. Held in cities around the world, Ford's Innovate Mobility Challenge series invites developers to apply fresh thinking and breakthrough technology to understand and address mobility issues.
Go Detroit Innovation Challenge
The Ford-sponsored Go Detroit innovation challenge was intended to help identify and address Detroit transportation needs with new technology advancements. More than 1,000 challenge participants from across the United States and around the world generated more than 160 ideas.
Finalists in the social entrepreneur category came up with creative ideas for improving daily lives through better access to places, people and services across Detroit, while the app developer finalists produced ideas for helping commuters have a safer, more efficient trip. The finalists have the opportunity to work with community organizations and Ford mobility experts to transform their ideas into innovative mobility solutions.
Mexico City Smart Journey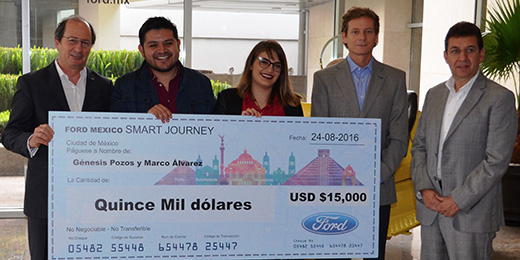 Almost 300 teams took part in a challenge to develop solutions for easier commuting across Mexico City. The focus was to give city residents and visitors all the available transport options in one app, powered by public, private and crowdsourced data. The Lino app was the overall winner, offering an engaging virtual reality experience that helps the commuter know which types of transportation to choose for an efficient multimodal journey.
See how we're exploring the use of agave by-products to develop sustainable materials