Regional Review > Middle East & Africa >
People and Communities
Best Employer Brand on LinkedIn
Following on from last year's success when Ford was named one of LinkedIn's Top 50 Most In-Demand Employers in Middle East and North Africa, we scooped the top award in the Growing Companies category, taking home the prize for Best Employer Brand on LinkedIn.
The award took into consideration employer brand presence on the LinkedIn Career page, against over 800 other companies, as well as engagement with the content posted on the page. Less than 24 months ago, Ford Middle East & Africa had zero presence on LinkedIn, so this award recognizes the efforts made to grow our employment brand and engage with potential recruits as part of our commitment to building a skilled, motivated and culturally diverse workforce.
Employee Development – Leading by Teaching Program, Dubai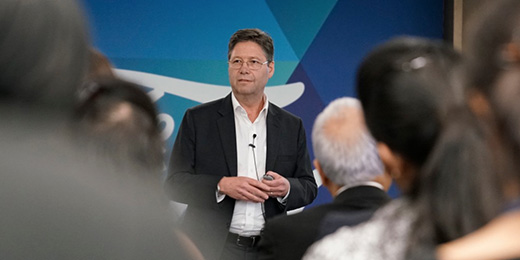 A brand-new learning and development program in Dubai – Leading by Teaching – is one of many new human resources initiatives planned for our workforce in the region.
Leading by Teaching is designed to further employees' professional development through a blended learning model and by tapping into the vast knowledge and experience that exists throughout the organization. The first session was attended by more than 100 employees and was hosted by Anton Van der Walt, Ford Middle East & Africa Human Resources Director, who shared his career journey at Ford and conveyed the human aspects of leadership and self-development.
Conservation and Environmental Grants Program
Ford's Conservation and Environmental Grants program has become one of the largest corporate initiatives in the Middle East and North Africa region, created to encourage, support and reward the actions of individuals, groups and nonprofits in shaping a more sustainable world.
Since the program began 16 years ago, grants totaling $1.61 million have supported over 200 projects, including top prizes awarded in 2016 for initiatives in Environmental Education, the Natural Environment and Conservation Engineering:
Green Mangroves project – Qatar

Free weekly kayak trips take individuals and schoolchildren up close to the precious mangroves of Purple Island, to build awareness and understanding of the trees' vital role in the ecosystem. The ultimate goal is to preserve fragile mangrove habitat in the Al Khor region.

Working to increase the bee population – Morocco

This project is focused on developing and managing traditional beehives using innovative organic methods, which have the potential to put a stop to declining bee numbers and increase the population.

Deepening scientific knowledge – Lebanon

Consensus-building workshops and training are part of a program to develop a Green Maps database that will assist scientists to assess and monitor environmentally significant sites across the country.
Warriors in Pink
Ford's Warriors in Pink program has become an active support system for people affected by breast cancer in the Middle East and North Africa since 2012. The 2016 edition of the campaign was an adrenalin-fueled event held in Sports City, Dubai. Five breast cancer survivors from the UAE – the campaign's "Models of Courage" for 2016 – showed off the new Warriors in Pink clothing and accessories collection, and shared their powerful message of hope.
Ford Middle East has partnered with the Zulekha hospital since 2015, offering free mammograms and consultations during the month of October to encourage both men and women to get screened.
The Henry Ford Entrepreneurship Academy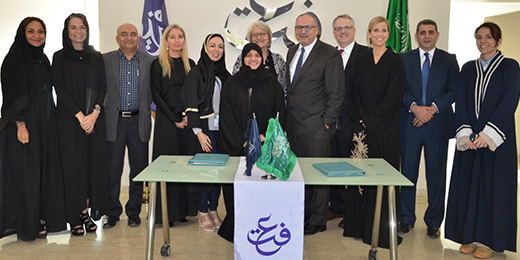 The Henry Ford Entrepreneurship Academy (HFEA) is a long-term, regionwide commitment to promote entrepreneurship through workshops and exchanges in collaboration with stakeholders throughout the Middle East and Africa. Eventually, the Academy will become a center for networking and connecting alumni and the local business community.
In cooperation with the Ford Motor Company Fund and the Virginia Commonwealth University (VCU), the Henry Ford Entrepreneurship Academy will assist future business leaders to think and act like entrepreneurs. The first Henry Ford Entrepreneurship Academy program was launched in Morocco in December 2015. Since then, more than 130 entrepreneurs in Morocco have received training.
In 2017, Ford hosted the first women-only workshop in Saudi Arabia, training 50 aspiring businesswomen in partnership with leading women's institution Effat University in Jeddah.
Resource and Engagement Center, South Africa
Ford's new Resource and Engagement Center in South Africa is part of a five-year, $4 million investment across the African continent to support the company's growth and its commitment to making people's lives better.
Read more about Ford's Resource and Engagement Centers, including the new center being planned in South Africa