Regional Review > Asia Pacific >
Strategy and Governance
Investing in Innovation
As we continue our transformation into an auto and mobility company, we are investing to drive innovation and strengthen our research and development (R&D) capability across the Asia Pacific region.
In China, we are investing more than RMB 1.3 billion in the Ford Research and Engineering Center in Nanjing to strengthen and expand its engineering and vehicle testing capabilities.
The investment supports an advanced vehicle test track set to open later this year, new vehicle testing facilities, including for electric vehicles, and the addition of a MakerSpace, a hands-on creative work area designed for employees to collaborate and test new ideas.
In India, we will invest $195 million in a new Global Technology and Business Service Center in Chennai. The new center will serve as a hub for product development, mobility solutions and business services for India and other markets around the world. Expected to be completed by early 2019, it will become Ford's third global product development center in Asia Pacific.
In Australia, Ford has transformed its head office in Melbourne into a new product development center as part of a $50 million capital investment to enhance vehicle engineering capability and drive innovation. In addition, we expanded our R&D investment in 2017 by 50 percent to $450 million to support increased vehicle development programs.
Our Electrification Strategy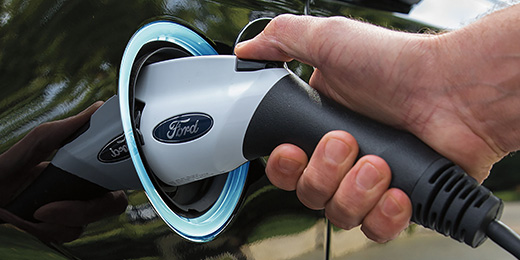 As part of our China electrification plans, we announced two new electric vehicles – the Mondeo Energi plug-in hybrid and an all-new fully electric small SUV with an estimated range of more than 450 km. The Mondeo Energi will be locally manufactured in China next year through Ford's Changan Ford joint venture; this is in addition to the China-produced Mondeo Hybrid, which went on sale late last year.
By 2025, we will provide a comprehensive range of electric vehicles in China with plans to electrify 70 percent of all Ford nameplates sold, including the full range of nameplates produced by Changan Ford.
We will begin locally manufacturing electrified powertrains by 2020 in line with our commitment to bring the best global technology to China. To support our growing electrified lineup and the development of next-generation electric vehicle technologies, we will also expand our electrified powertrain engineering capabilities at the Ford Research and Engineering Center in Nanjing.
Read more about our electrification strategy in China
Pursuing Emerging Opportunities in Mobility
FordPass, China
FordPass is core to our strategy to become both an auto and a mobility company, and has now been officially launched in China. FordPass is like having a personal assistant for mobility needs and offers consumers in the region a richer ownership experience and an array of features.
These include MyDealer (dealer locator, click-to-call dealer), MyVehicle (vehicle health alert, maintenance schedule, service history, warranty information), Ford Guide (click-to-call or click-to-chat for personal one-on-one assistance), Parking (search, directions), a fuel station locator and a vehicle pickup and delivery service to take vehicles to dealerships for servicing.
Shuttle Services, China
Shuttle services can help address a significant pain point for commuters in the growing megacities in Asia Pacific. By servicing the distance between home and office, shuttles offer a more convenient, affordable and comfortable alternative to mass transit. Our projects include:
GoRide on-demand shuttle trial program, Shanghai – This offers commuters a last-mile solution built around pickup at a subway station. In addition to dynamic routes, we also offer a fixed route option to provide commuters with a further choice.

Panda Dynamic Shuttle experiment, Dalian – With Panda Shuttle (an established shuttle bus company in Dalian, China) and Tsinghua University, we have developed a scheduling tool to provide more flexible and effective transport services during high- and low-demand periods.
Car Sharing, India
Our investment in India's leading car-sharing company Zoomcar supports our vision of future services that will make it easier for people to move in cities using different forms of transportation. Ford has been Zoomcar's largest supplier of vehicles and both companies have worked closely on a number of mobility experiments, including a car-sharing experiment in Bangalore.
This provides added insights on the mobility needs of consumers who want to experience the benefits of car ownership by sharing a single vehicle among a number of drivers.
Smart Parking, Shanghai
Shanghai is one of the busiest cities in the world. We partnered with Cheyaoshi, a valet parking mobile app, on a smart parking experiment aimed at helping employees at our Asia Pacific headquarters in Shanghai to find parking in the very busy Lujiazui financial district where our offices are located. Employees can take up to 20 minutes a day to find parking, so we offered our employees a flexible valet parking service to alleviate the pressures. We are using insights from the experiment to help develop mobility solutions in our markets.