People and Communities > Our People >
Building a Talent Pipeline
To strengthen our pipeline of potential future talent, we have developed a consistent global strategy that focuses on STEAM (science, technology, engineering, arts and math) programs.
Investing in Technology and Innovation
We continue to assess and invest in STEAM programs to inspire an interest in technology and innovation among schoolchildren. Our mission is to develop and deliver innovative, aligned programs for students and educators around the world, prioritizing programs that leverage skills and foster long-lasting partnerships and engagement that nurture technical talent.
As part of our approach, we run "Powered by Ford" STEM Academies to attract high-school students and prepare them for life in the real world. Attendees learn core academic subjects as well as getting involved in engineering, information technology and manufacturing projects, often conducted at our facilities.
In an effort to drive social mobility, we've also awarded millions of dollars in scholarships, providing high-achieving college-bound students with much-needed financial support for their studies. Worth up to $10,000 each, we awarded 100 Blue Oval STEAM Scholarships in 2016, up from 80 in 2015.
Our Support for STEAM Programs
FIRST® Robotics
With limited resources and tight timelines, groups of students participating in FIRST® Robotics are challenged to fund, build and program robots to perform certain tasks, competing against other teams.
Ford gives grants for elementary-, middle- and high-school teams, and in 2016, we increased our financial support and mentor engagement. In addition to the 100+ elementary- and middle-school teams, and 87 high-school teams, that participated across the different challenges during 2016–17, about 200 employees volunteered to mentor Ford-sponsored teams.
As part of our commitment to the initiative, we sponsored and supported two FIRST® Robotics District Championships hosted by Kettering University, with two of our STEAM Executive Council leaders, Sue Leone and Brad Simmons, representing Ford as keynote speakers. We also sponsored the FIRST® Robotics Kickoff event at the Michigan Engineering Zone in Detroit.
Ford STEM High School Community Challenge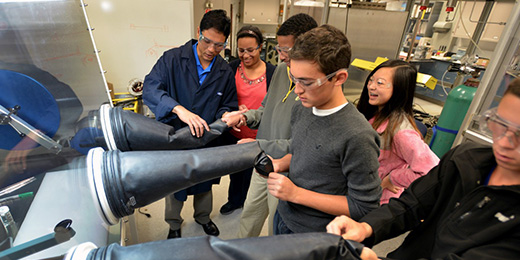 Ford Next Generation Learning (NGL), a signature program of Ford Fund, has teamed up with the Ford STEAM program to award $50,000 in grants to creative high-school students who are putting their technical skills to good use.
Building on the success of Ford's College Community Challenge (C3), the Ford STEM High School Community Challenge empowers students to make a positive difference in their communities. Student leadership and participation of community partners are essential aspects of the winning proposals, which sought to address unmet needs in technology, alternative energy, health and other areas.
Six teams from across the United States were selected to implement their inventive solutions. The winners, Whites Creek High School in Nashville, Tennessee, were awarded $20,000 to convert a Ford F-Series truck and tractor to run on renewable hydrogen fuel. The students will also develop a solar farm to produce electricity and power the new hydrogen processor they plan to build.
The runners-up, Guilford High School in Rockford, Illinois, will use their $10,000 award to develop solar-powered charging stations with LED lights throughout the city, and create an outdoor learning lab at their school. Four other teams, from Florida, Texas and Georgia, each received $5,000.
Learn more about this year's winning projects
Girls Who Code
To help address the significant under-representation of women in the tech industry, we've paired up with Girls Who Code, an organization working to inspire, educate and equip young women with the skills needed to pursue academic and career opportunities in computing.
At the Ford Research & Innovation Center (RIC) in Palo Alto, California, we've teamed up with the national nonprofit to provide opportunities for young women interested in science, technology, engineering and math (STEM).
Girls Who Code programs across the U.S. combine instruction in robotics, web design and mobile development with access to, and mentorship from, top engineers at RIC. This gives students exposure to real-life role models and hands-on experience on projects at our Silicon Valley research lab.