Ford in the Community
Ford Motor Company is more than just an employer; we're also a neighbor, and our business is only as strong as the local communities in which our employees and customers live and work. It is therefore in our mutual interest to work with them, and invest in them, to improve quality of life for all.
Investment and Engagement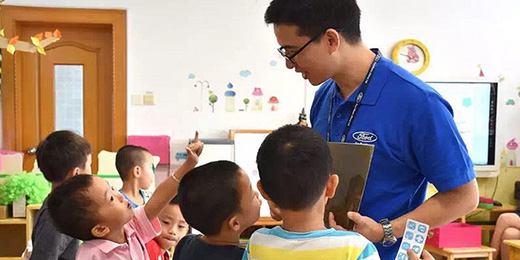 Our support for the communities in which we operate goes beyond just donating money to good causes. It's also about building long-lasting partnerships to address the challenges our neighbors face, helping provide food and shelter, improving educational opportunities, and contributing to emergency relief and disaster response.
Ford's community involvement comes through direct investment and positive engagement, and by applying our expertise and technology to help address societal challenges. Our increasingly integrated approach aligns our community relations programs, our community impact assessments, and our key sustainability and business priorities. This ranges from respecting human rights, a fundamental aspect of our license to operate and vital for maintaining the trust of local communities, through to addressing water issues beyond our own operations.
Assessing Our Impact
As our business grows, so do our community investment and volunteering efforts.
We continue working to improve our ability to measure the impact of our efforts, beyond charitable contributions and volunteering hours, in a more holistic manner.
See our charitable contributions data in more detail
Ford Credit's Community Investments
Ford Motor Credit Company ("Ford Credit"), a wholly owned subsidiary of Ford Motor Company, offers automotive financial services to dealerships and customers around the world. Ford Credit's long-standing commitment to its local communities ranges from employee volunteering opportunities to structured work experience programs for young people.
Contributions from Ford Fund, and Ford Motor Company contributions administered through Ford Fund.