Customers and Products > Improving Vehicle Safety >
Occupant Protection
Our commitment to advancing vehicle safety includes conducting research and developing technologies that further protect occupants and other vulnerable road users in a variety of situations.
Our Current Technology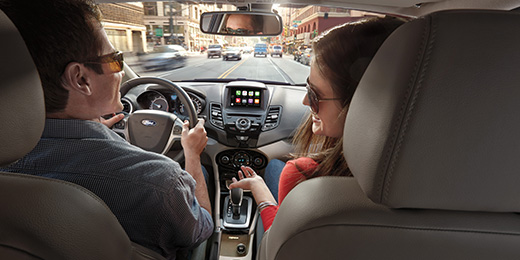 Many factors influence a vehicle's crash performance, including its ability to absorb energy on impact and the use of passive safety equipment such as safety belts and airbags.
Safety belts remain the most effective and important vehicle safety technology available. In addition to traditional safety belts, Ford offers rear seat inflatable safety belts, which incorporate airbag technology to help reduce the risk of head, neck and chest injuries for rear passengers. We have also patented technologies that allow airbags to be placed in other locations inside the vehicle, such as knee airbags for front passengers.
We are using more advanced and ultra-high-strength steels, aluminum, plastics and composites in vehicle structures to maintain high levels of safety crash performance while reducing vehicle weight and improving fuel economy.
What's Next in Occupant Protection?
We collaborate with other automakers on precompetitive projects to enhance the safety of vehicle occupants. The results from these joint projects may have a broad impact and are often published in peer-reviewed journals and other scientific publications.
We collaborate with General Motors (GM) and Fiat Chrysler Automobiles (FCA) through the various safety-related working groups and committees of the U.S. Council for Automotive Research (USCAR). We also collaborate with other automotive manufacturers through the Alliance of Automobile Manufacturers (Auto Alliance), the Society of Automotive Engineers (SAE) International and the International Organization for Standardization (ISO).
We are also participating in joint projects on lithium-ion batteries and lightweight materials with the Department of Energy (DOE), software vendors and suppliers. We collaborate with universities in many areas through our Alliance partner universities1 and by awarding grants through our University Research Program (URP).
Research into Occupant Protection
Our ongoing vehicle safety and occupant protection research includes the following examples:
Using real-world crash data and developing computer models to estimate the effects of demographic trends (e.g., occupant age and weight) and vehicle characteristics (e.g., size and weight) on future vehicle safety

Developing and using advanced human body computer models that reflect changing global demographics to investigate the specific needs of elderly and obese occupants, and to research possible countermeasures

Working with industry to evaluate the biofidelity, repeatability, reproducibility and durability of next-generation anthropomorphic test devices (ATDs) – including two mid-sized ATDs for testing front and side impacts – so that they more closely simulate the responses of human occupants in crashes

Ensuring emerging alternative fuel technology systems perform as intended during a vehicle crash

Under the USCAR partnership and in collaboration with GM and FCA, we conducted a literature research and meta-analysis project on crash avoidance technologies, including but not limited to advanced driver assist technologies such as autonomous emergency braking (AEB), lane departure, night vision and advanced lighting

Along with USCAR, we have continued the collaboration with Sandia National Laboratories (SNL) and the National Renewable Energy Laboratory (NREL) to conduct research and crash testing of live lithium-ion batteries to evaluate their safety performance

With the DOE, we are evaluating the lightweighting of materials used in traditional automotive manufacturing to improve fuel economy while maintaining crashworthiness. Different commercial CAE (computer-aided engineering) crash codes are being evaluated for materials such as boron, carbon fiber and magnesium, while considering the implementation of new crash modes such as the proposed frontal oblique impact test being considered by NHTSA

We are researching nano-liquid foam technology and its potential future applications in collaboration with Michigan State University

We are developing new state-of-the-art CAE and safety methods for process improvements, enhancement of computer simulation capabilities and to support virtual testing
Research into Autonomous Vehicle Safety
We have also initiated research projects with universities related to future autonomous vehicle (AV) safety. These include:
Assessing occupant use cases and occupant sensing technologies with Purdue University

Evaluating how AV technologies may affect the real-world crash scenarios and occupant protection with the University of Michigan

Evaluating how driver assist features will affect the safety of the occupant and accident scenarios in the field with Virginia Tech

Developing potential out-of-position situations for the new deployable restraints and seating configurations that AVs may enable with Virginia Tech
Read more about our work with connected and autonomous vehicles