Customers and Products > Reducing Vehicle Emissions >
Improving Fuel Economy
Through our Sustainable Technologies and Alternative Fuels Plan, we use a variety of approaches to improve the fuel economy of our conventional gasoline- and diesel-powered vehicles.
Engine and Transmission Technologies
Gasoline Engines
Our EcoBoost® engines use turbocharging and direct fuel injection to deliver significant fuel-efficiency gains and reduced CO2 emissions in gasoline-powered vehicles. So far, we've brought this fuel-saving technology to more than 8 million engines worldwide, ranging in size from 1.0L to 3.5L, and there are more than 1 million Ford EcoBoost®-equipped trucks on the road today.
Ford's 1.0L EcoBoost® engine has been voted best in class at the International Engine of the Year Awards for the fifth year in a row. Judges praised the combination of drivability, performance, economy, refinement and technology that continues to set the standard.
Thanks to its all-new 3.5-liter EcoBoost® engine, paired exclusively with our new 10-speed automatic transmission, the 2017 Ford F-150 lineup has shown improvements in its EPA-estimated fuel economy ratings. The 2017 Ford F-150 truck was named the American Council for an Energy-Efficient Economy (ACEEE) Greener Choice award winner, the only full-size truck in the list.
Ford continues to innovate, building on the strong EcoBoost® engine foundation, while understanding that specific applications and markets may dictate different solutions. New technologies are being investigated and developed to improve performance, fuel economy and emissions for multiple powertrain options, including hybridization. Major areas of focus include advanced boosting, reduced friction, and advanced fuel injection and ignition.
Moving forward, we will continue to assess the importance of low-carbon renewable fuels on CO2 reduction and their impact on future powertrain designs.
Advanced Transmissions and Drivelines
The all-new 10-speed automatic transmission available for 2017 F-150 4x2 and 4x4 models – our first volume-production 10-speed automatic – improves powertrain efficiency by maximizing engine operation within its optimal range. Along with the new EcoBoost® engine, this new powertrain combination provides better low-end and peak performance, which is ideal for hauling heavy payloads and towing trailers.
We continue to progress both front- and rear-wheel-drive transmissions to optimize the overall powertrain, including the development of advanced torque converters to enable aggressive lock-up operation and improved hydraulics to reduce oil pumping losses, all aiming to increase efficiency and performance while enabling quick, smooth shifts.
Additionally, we are developing driveline technologies to reduce parasitic losses while enhancing function and drivability, including low-drag all-wheel-drive systems.
Diesel Engines
Diesel engines operate lean and unthrottled, and at a higher compression ratio than gasoline engines, and diesel fuel has approximately 10 percent more energy by volume than gasoline.
As a result of these factors, modern diesel engines consume 25–30 percent less fuel by volume (15–20 percent less by energy) than gasoline engines and, on a well-to-wheels (WTW) basis, emit up to 20 percent less CO2 per kilometer. Thanks to technologies such as diesel oxidation catalysts, diesel particulate filters, selective catalytic reduction systems and lean nitrous oxide (NOx) traps, non-CO2 emissions such as NOx and particulate matter have been greatly reduced relative to past models. Our research and development activities continuously pursue innovative solutions for even cleaner and more efficient propulsion systems.
In Europe, we have enhanced our lineup of 1.5L and 2.0L TDCi engines with the all-new 2.0L EcoBlue engine: a new generation of clean, efficient, refined and high-performance diesel engines that are already available in Ford's light-duty commercial vehicles. In North America, we offer two advanced diesel engines: the 6.7L Power Stroke V8 available in our SuperDuty and Medium Duty commercial trucks, and a new 3.2L Power Stroke turbo diesel in the Transit Van. Diesel engines continue to be a popular option, due to their excellent drivability, CO2 emissions and fuel consumption characteristics when carrying heavy loads.
As our plans develop further, we are maintaining a special focus on sustainable fuels, and already today, our advanced diesel engines are compatible with biodiesel.
See our detailed vehicle fuel economy and carbon emissions performance
Reducing Vehicle Weight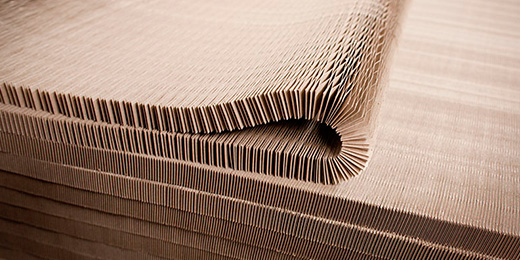 We are adopting advanced lightweight materials to help reduce fuel consumption wherever practicable. For example, our F-Series trucks feature advanced aluminum alloy bodies, allowing us to save weight and deliver even more capability. Later in 2017, we also plan to release an Expedition featuring an aluminum body.
Together with Magna International, we have developed a prototype carbon fiber composite subframe that reduces mass by 34 percent compared to the stamped steel equivalent. This lightweight subframe will help reduce CO2 emissions and improve fuel efficiency, helping automakers meet federal clean car standards. The subframe also replaces 45 steel parts with two molded and four metallic parts: an 87 percent reduction.
We have also developed an incredibly light but strong cargo floorboard in the all-new Ford EcoSport, made of high-strength 100 percent recycled paper and water-based glue. The honeycomb design, inspired by beehives, is able to handle more than 100 times its six-pound weight in cargo.
Find out more about our use of sustainable materials
What's Next in Fuel Economy?
To help us meet consumers' growing appetite for vehicles with greater fuel efficiency, we have invested $200 million in a new aerodynamic testing complex. The new facility, to be located next to our Driveability Test Facility in Allen Park, Michigan, will feature innovative technology that simulates real-world driving conditions, including a next-generation rolling road wind tunnel and state-of-the-art climatic chamber, to advance improvements in fuel economy.
We're also exploring how 3D printing could help produce lighter-weight parts that lead to better overall vehicle fuel efficiency. Ford is the first automaker to pilot the Stratasys Infinite Build 3D system, capable of printing large-scale, single-piece automotive parts like spoilers. Housed at the Ford Research and Innovation Center in Dearborn, it could provide a more efficient, affordable way to create low-volume prototype parts, personalized items or specialized race car components.