For more than 30 years, Dr. Priya Prasad has been working for Ford Motor Company in areas related to occupant protection and vehicle safety. A Technical Fellow in Safety Research and Development, he has been a key player in the development of restraint system technologies that help protect vehicle occupants in various crash modes, CAE technologies for crashworthiness, and technologies that further improve compatibility between heavier and lighter vehicles.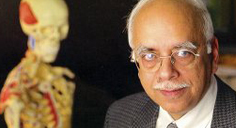 An Unusual Automotive Safety Engineer
A life-size model of a human skeleton occupies a corner of Dr. Prasad's office, its eyeless sockets surveying the reams of data blanketing the desk and conference table. The skeleton serves as a constant reminder to Dr. Prasad that humans the world over are made of the same flesh and bone.
A world-renowned biomechanics expert, Dr. Prasad has spent the past 30 years at Ford studying the human body and its response to physical forces in vehicle crashes. His extensive knowledge helps Ford designers and safety engineers develop safer vehicles. And he gladly shares that knowledge with the world. He has published over one hundred technical papers in prestigious conferences and technical journals. He also holds several U.S. patents on safety technologies.
Helping Save Lives
Dr. Prasad's research work has undoubtedly saved many lives. He was a leader in designing de-powered airbags. He championed the development of side airbags that provide protection to the head and chest in side impacts and developed a deploying door-trim system that enhances protection in side impacts. Now in place in many Ford vehicles, the system has earned four U.S. patents.
Dr. Prasad was also responsible for the development of design features that were introduced in several pickups and SUVs to provide enhanced protection to occupants of other vehicles involved in crashes with them.
Additionally, Dr. Prasad's work on human tolerance to impact and test methodology has been incorporated in the Federal Regulation FMVSS208.
Awards and Recognition
Dr. Prasad has received many accolades for his work in automotive safety research. He's the first person honored by the U.S. Department of Transportation for contributions to the Advancement of Motor Vehicle Research and Development. In 1995, he was named a Ford Technical Fellow—the pinnacle of accomplishment for Ford scientists. He has also received Ford Motor Company's highest scientific prize, the Henry Ford Technology Award, twice.
Dr. Prasad is a member of the National Academy of Engineering, a Fellow member of the Society of Automotive Engineers and a Fellow of the American Institute for Medical and Biological Engineering. He's been recognized by the U.S. National Highway Transportation Safety Administration for Safety Engineering Excellence.
In addition to the work he does for Ford, Dr. Prasad also volunteers his time to groups all over the world that work to improve transportation safety.