The legendary Ford Thunderbird debuted February 20, 1954, at Detroit's first auto show after World War II. Weary of wartime deprivation, the Thunderbird quickly rekindled America's love of two-seater sports cars.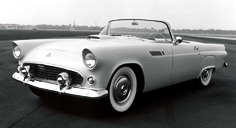 50 Years of Thunderbird
In October 1954, the Ford Thunderbird went on sale as a 1955 model. This was the start of a legend that would grow with each generation. During the next five decades, Thunderbird went through several design changes with coupes, sedans, convertibles, hardtops, and mid-size and large-size configurations. It went on hiatus after the 1997 model year, but returned in 2001 as a retro-styled roadster.
Early in 2005, Ford Motor Company announced that it would put the legendary Thunderbird nameplate back into the company's future-product vault after the 2005 model year. That year, Ford Thunderbird celebrated its golden anniversary with a 50th anniversary, limited-edition 2005 model. Over 50 years, more than 4.25 million T-Birds were sold.
Baby Birds, 1955-57
More than 4,000 orders waited as the first '55 T-Birds rolled off the line at the Dearborn Assembly Plant on October 22, 1954. This first generation of T-Birds had a 102-inch wheelbase, an overall length of 175.2 inches and a 292-cubic-inch, V-8 engine (193 horsepower with the manual transmission and 198 horsepower with the automatic). T-Bird's distinctive spare tire mounting and porthole windows were introduced in 1956. The porthole hardtop endured as a Thunderbird signature.
Square Birds, 1958-60
With the postwar baby boom continuing, the company dropped the two-passenger T-Bird for a roomier four-passenger model. Nicknamed "Squarebird" for its angular lines, the 1958 T-Bird was a full two feet longer and had a wider door opening than any car on the market. An immediate success, the car was named Motor Trend magazine's "Car of the Year."
Bullet Birds, 1961-63
The 1961 T-Bird sported a rounded silhouette and grille design, giving it a bullet-like appearance. It was shortened slightly to 205 inches. John F. Kennedy was so impressed that he included 50 in his 1961 inaugural procession. In 1963, the company offered a Special Limited Edition Landau in tribute to Monaco's Princess Grace—2,000 vehicles that were all white, with white leather interiors and maroon vinyl tops.
Jet Birds, 1964-66
Thunderbird received a fourth redesign for 1964, with a longer hood, shorter roof and sculpted rear deck with large, rectangular taillights. The interior featured a new "Flight Deck" instrument panel meant to evoke an aircraft cockpit. For 1965, disc brakes were added. A new Thunderbird emblem replaced the Thunderbird lettering. Design changes for '66 included a single rear taillight across the width of the car.
Over the next three decades, Thunderbird's fortunes ebbed and flowed with changing consumer tastes, and the company suspended production after the 1997 model year.
A Legend Returns
Thunderbird was reborn as a concept car in 1999. Thunderbird made its regular production debut on January 8, 2001, returning as a two-seat, rear-wheel-drive, V-8-powered convertible 2002 roadster, a modern throwback to the original. Awards included "Car of the Year" from Motor Trend magazine (for a record fourth time) and a "Best in Class" ranking from J.D. Power and Associates for initial quality and "things gone right" based on owner surveys. Later refinements included additional horsepower and an optional five-speed transmission that shifted like a manual transmission but without a clutch.
For 2004, new interior amenities and colors echoed the relaxed look of the original in a distinctly modern interpretation. Since the 50th model-year anniversary coincided with the end of the current generation, the 2005 limited-edition anniversary models were expected to become collector's items.