Odds are good that the next police cruiser you see on the road is a Ford Crown Victoria Police Interceptor—Ford Motor Company owns about 80 percent of total annual sales in the police vehicle market.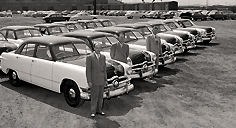 Providing Police Vehicles for More Than Half a Century
Ford Motor Company is the only vehicle manufacturer that has continuously offered a police package in its lineup since 1950. While other manufacturers have come and gone with police entries applied to front-wheel-drive cars and unibody rear-wheel-drive cars, we continue to offer the market's only standard V-8, rear-wheel-drive and body-on-frame vehicle—the Crown Victoria Police Interceptor.
The predictability of rear-wheel driving is a benefit our law-enforcement customers value. The body-on-frame means the car's chassis components (steering, suspension) are mounted to a frame, not to the car's body, which is important for the heavy-duty driving often associated with police work. Body-on-frame construction also helps keep repair costs down and contributes to the longevity of the vehicle.
Listening to the Needs of Law-Enforcement Officers
To gather information about the issues that are important to our law-enforcement customers, we established a first-in-the-industry Police Advisory Board. For example, when we heard that seats in the Crown Victoria Police Interceptor were uncomfortable during long patrols, we redesigned the front seats. We've also designed bullet-proof doors as a result of comments we heard from the Police Advisory Board.
Helping Keep Officers Safe
All Police Interceptors feature rack-and-pinion steering for improved handling and an available Fire Suppression System and ballistic door panels.
The 4.6-liter V-8 delivers 250 horsepower by incorporating the airbox from the performance-oriented Mercury Marauder. The package includes a high-output, 200-amp alternator; an engine oil cooler; heavy-duty shock absorbers; a heavy-duty front suspension; speed-sensitive steering with power steering oil cooler; a transmission oil cooler and heavy-duty steel wheels.
The Crown Victoria Police Interceptor also features a large, 20.6-cubic-foot trunk with a full-size spare; spacious, 106.4 cubic feet of interior passenger volume; and an exemplary safety record that includes five-star frontal crash ratings for driver and front passenger every year since 1996 in the National Highway Traffic Safety Administration's test*. The Crown Victoria Police Interceptor is tested in a 75-mph rear-end crash, something no other car manufacturer publicly claims.
*Star ratings are part of the U.S. Department of Transportation's Safercar.gov program (www.safercar.gov).
A Greener Police Vehicle
The 2008 Crown Victoria Police Interceptor is offered as a flexible-fuel vehicle that can operate on E85 fuel (85 percent ethanol and 15 percent gasoline), on gasoline alone, or on a combination of the two. We began offering this option because we know police and local government agencies across the United States have been looking toward alternative sources of fuel for their fleet vehicles, and we wanted to fill this need for our police customers.