A century ago, an affordable and efficient automobile known as the Model T put the world on wheels.  Henry Ford's innovation turned a dream into reality, opening up the road and ushering in the popular use of the automobile.  And today, on the Centennial Anniversary of the Model T, the spirit and legacy of Ford's "universal car" are more evident than ever.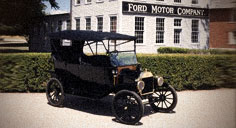 The automotive advancements pioneered by the Model T have inspired other major developments over the course of Ford's history and into the 21st century. In June 2008 Ford marked the arrival of the all-new Ford Flex.  The Flex crossover offers a spacious and adaptive ride with a unique bold style.  A new standard will also be set in the small car market when we release the safe, efficient and affordable Ford Fiesta starting this year.  A car for the masses was Henry Ford's dream and remains an important part of our heritage even today.  Visit our Heritage page to learn more about Ford's history.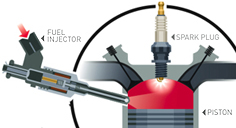 In building his Model T, Henry Ford utilized existing technologies and created those that didn't yet exist.  Today that same vision has brought us the Ford SYNC® system, which connects drivers to the world around them using innovative voice-recognition capabilities.  Innovation in affordable engine technologies in the Ford Model T enabled remarkable transportation efficiencies, and 100 years later we will launch our EcoBoost™ engine technology in 2009.  
Explore our innovations
 100 years in the making.